About us
My name is Marianne Hoogendoorn. Together with my son and the cats we live in Maarssen (Netherlands). The cats are my big passion and specifically the breed "Turkish Angora"!
Ever since i was a child i was surrounded by animals. It is in my blood, sort of speak. My mother was a dog breeder for over 30 years. When i moved out of my elderly home i took the cats with me. It had to be like that. As many before me, my first cats where "House Hold Pets" (which were very dear to me) and then i met the Turkish Angora.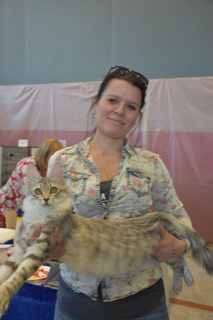 By coincidence my first Turkish Angora came into my life. She was a blue tortie smoke female named Sophie. Because of her i fell in love with the breed. Not long after she came into my life the idea began to grow to breed with her. I did not just wanted to multiply, but to breed as a responsible breeder. Around the same time i also bought my first Maine Coon female. In 2004 i got my cattery name and in 2005 my first litter was born.

Halfway 2012 i decided to only focus on the Turkish Angora and stopped breeding with the Maine Coons. For different reasons but it comes down to the fact that i wanted to focus on one breed only breeding wise. Of course the Maine Coons will always have a special place in my heart!

The cattery i a hobby for me; a passion. I am not doing it to make money. The reality is that it cost more money than comes in, because when you want to breed in a responsible way (and this is what we want right?) there are many things to consider and the financial side can not be ignored.
And no i would never complain. Hobby's cost money....period!

And we get so much in return; The chance to see the miracle of pregnancy and birth, the presence of cute kittens and of course the opportunity to make other people very happy with their own perfect little one. You can not put a price-tag on that!
In all the years i have seen and learned so much, many good things have happened, but also bad and sad things and i have wondered myself more than once why i continue and do all this trouble for.
....until you get a message again from the owners of one of the kittens how happy and proud they are with their special friend
....when i lay down on the couch after work with all the cats around me
....the funny things they do so you can only laugh
I have to share the opportunity right?

I have a very clear view about the policy in my cattery. Which of course doesn't mean that i know all. I think i will never stop learning. It is a constant learning school.
So i continue to make people happy with their own little Havvanurs. Every day we enjoy the presence of our cats and i hope i can continue to do this for many years.

In march 2011 i have completed the course G1 from Pawpeds. And in 2012 the G2.